With Governor Gavin Newsome's signature, Assembly Bill (AB) 909 sets new standards designed to make bicycle riding on California's roads safer and encourage more bicycle riding overall.
AB1909 seeks to reduce the risks of serious or deadly encounters by giving cyclists more alternatives to streets and highways. Class 3 electric bikes do not face a statewide prohibition on using bike trails, hiking trails, bikeways, equestrian paths, or the like. Conceivably, this encourages more cyclists to stay away from motor vehicles.
Below, we summarize the changes and explain how they impact your rights and duties when you ride a bike.
The New Laws:
Passing:
The legislation, which takes effect January 1, 2024, requires those in cars and trucks to completely change lanes before passing a cyclist if the lane change can be accomplished safely. This adds to the requirement that motorists stay at least three feet away from cyclists when overtaking them. Due to the difficulties in measuring the required distance, AB1909 seeks to bring more clarity to the standard of care for drivers passing those on bicycles.
Cyclists May Cross Intersections As If Pedestrians: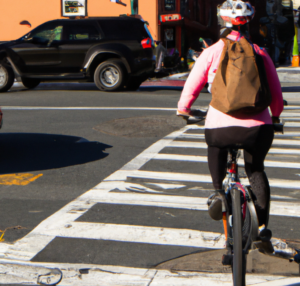 The statute also places bicycle riders on the same field as pedestrians at intersections. Specifically, you and your bike may cross an intersection if the "WALK" or "Walking Person" appears in your direction. This word and symbol indicate that a pedestrian (and cyclists) may safely walk across the intersection.
Treating cyclists at intersections as pedestrians gives them the same right-of-way preferences as pedestrians. California law requires car and truck drivers to yield the right-of-way to pedestrians and bicycle riders. This is so even if no "Walk" sign or symbol faces the pedestrian or cyclist.
More Access and Fewer Barriers for Cyclists:
In passing AB1909, the California Assembly sought to expand bicycle use also through eliminating certain restrictions associated with bicycling. Gone from California is the authority of local governments to require riders to obtain bicycle licenses. AB1909 renders unenforceable local ordinances that limit or outright ban "Class 3" electric bicycles from bicycle lanes. The motors of these bicycles run only when you pedal and stop assisting you at speeds above 28 miles per hour.
AB1909 does not prohibit the California Department of Parks and Recreation from making its trails off-limits to Class 3 electric bicycles.
What Are the Hazards of Bicycle Riding?
According to the National Highway Safety Traffic Administration, lack of visibility ranks second to failure to yield the right of way in accidents involving bicycles. Cars and trucks are more likely to strike cyclists with the front of the vehicles. The new requirement that overtaking trucks and cars must change lanes before passing aims to reduce the risk that cyclists are invisible to motorists. Already, motor vehicles must remain at least three feet clear of bicycles.
Bicycle riders get generally the same protections and must follow the same rules of the road as operators of cars and trucks. Mistakes by motor vehicle operators that lead to failures to yield the right of way, failures to see or notice the bicycles, and failures to avoid serious accidents include;
Following too closely
Distracted driving, such as using a cellphone
Driving under the influence of alcohol or drugs
Not giving turn signals
Speeding
These measures aim to reduce the risks to bicyclists from those in cars, vans, SUVs, and trucks. Unlike automobiles, bicycles do not come with seat belts to restrain operators or passengers during a crash. If you're riding a bicycle, you enjoy the "open air." However, you lack any barrier between you and a vehicle or other object with which you might collide.
The Injuries to a Bicyclist:
The aftermath of a bicycle crash – particularly for cyclists – can prove deadly or otherwise devastating. Consider these statistics:
Crashes with motor vehicles killed 961 cyclists nationwide in 2021, representing a 55 percent increase in such fatalities since 2010
On average, 11,000 cyclists a year suffer injuries, and 160 die due to bike riding
In 2020, California's 129 fatalities involving cyclists trailed only Florida (170)
According to the Insurance Institute for Highway Safety, 816 deaths (representing 85 percent of the fatalities) occurred in urban places in 2021
Between 2010 and 2019, deaths from bicycle riding have risen by 60 percent
A report by the Centers for Disease Control places the price tag for crashes involving bicycles at more than $23 billion nationally per year
From 2009 to 2018, approximately 596,972 people went to emergency rooms for traumatic brain injuries arising from bicycle accidents
Head Trauma
In a bicycle crash, riders likely will experience forceful contact with the ground. Often, the surface is either concrete, paved or a non-paved surface that lacks a cushion. If you wear a helmet, you might diminish the chances of severe traumatic brain injuries. Indeed, studies indicate that you can trim your risk of head or brain injuries by 70 percent with a helmet. By one study, helmet use resulted in 34 percent fewer fatalities from bicycle collisions with motor vehicles.
If you have significant trauma to your head, your injuries may include:
Lost hearing or vision
Impaired memory, judgment, or other cognition
Depression, anger, or sudden changes in affect and behavior
Imbalance
Confusion
Musculoskeletal and Other Bodily Injuries
Fractures and bruises also arise from bicycle accidents. Your knees, legs, feet, and arms likely will hit the ground or a car that runs into your bike. Attempts to brace a fall may result in a broken wrist or hand. Bicycle accident victims also face bruised, broken, or scraped shoulders, legs, arms, and knees from impacts with the ground. Using elbow pads or knee pads can lower the chances of elbow or knee fractures or cuts.
If You Are Injured On a Bicycle?
Unfortunately, AB1909 will not eliminate all dangers or harm from riding a bicycle. If a motorist hits you, California law sets a deadline of two years from the accident to bring a lawsuit against the negligent driver. During this time, you or your lawyer will gather medical records, accident reports, and images of the accident scene and the vehicle which hit you.