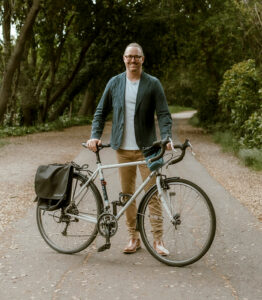 Try as we might, collisions are an unfortunate part of cycling. Negligent drivers, potholes, and even other cyclists can turn a perfect day into a trip to the hospital. As cyclists we can do our part by obeying traffic laws, choosing safe routes, staying visible, and riding in groups. But it's important to be prepared for the worst-case scenario. Below I have outlined what to do if injured by a car, road defect, or product defect, as well as how to make sure you are insured in case of disaster.
What to do if you are hit by a car
In the event of a bike v. auto collision, gathering information and documenting the collision are crucial for proving your case. If you are riding as a group and one of your riders is struck by a vehicle, the ride leader should assign roles to establish who will provide first aid to the rider and who will gather information. If you are riding solo and are injured, call 9-1-1 immediately.
Seek medical attention promptly.
Your health is the most important thing of all. If you think you may be injured or are unsure, get checked out by a doctor right away. If you wait too long, the driver's insurance company will use this against you and try to argue that you weren't injured. Of course, there are numerous reasons why someone may not seek medical attention, it is expensive, and some injuries may not be obvious right away. Get checked out to be safe.
File a police report.
Even if you suffer only a minor injury, filing a police report is an important first step. A police report, called a Traffic Collision Report, provides a record of the event. If police do not respond to your collision, you can file a police report on scene with the responding officers or later at the police station. Most departments don't allow you to file a police report online and require a face to face interaction. The report will contain the other party's insurance information and police officers will take witness statements at the scene of the collision. Failing to get a police report can put cyclists in a difficult position if the other driver later lies about the collision or denies it happened altogether. Make sure to get the reporting officer's business card and the report number so you or your attorney can obtain a copy of the completed report.
Take photos; document everything.
Taking pictures helps preserve evidence that may not be recorded by the police report. Photograph the scene, your bike, the other vehicles involved, and any other parties involved. If liability is disputed, photos can help an accident reconstruction expert establish the physics of the collision and prove that the other party is at fault. It is wise to keep an injury journal to document your experience. The small details will be invaluable in your case.
Do not talk to the insurance company before you talk to a lawyer.
Insurance companies are like casinos; they're not in the business of paying out money. The insurance company may try to contact you soon after a collision to take a recorded statement. Their goal is to get you to undermine your own case early on. You are not obligated to talk to them. If you do get a phone call or letter from the responsible driver's insurance company, talk to an attorney first. You may not need to hire an attorney, but it's always helpful (and free!) to get a consultation with a bike lawyer.
Don't fix your bike yourself.
You are entitled to have your bike repaired or replaced, but if you do so before the insurance company gets a chance to inspect your bicycle they may try and argue that you either overpaid for repairs or your bike was not in fact damaged. Take your bike to a shop you trust and ask them for a repair estimate to present to the insurer with photos of the damage.
You have two years to complete your claim.
Under California law, you have two years to resolve your insurance claim or file a lawsuit. The insurance company may tell you that you need to respond within some window of time, or they will close your claim. This is designed to intimidate you. You can always reopen a closed claim at a later date within the two year window.
What to do if you are injured by a road defect
If you are injured by a road defect, report the problem to the relevant government body immediately. Unlike with claims against private citizens where you have a two-year statute of limitations, government claims have a six month statute of limitations. Suing the government requires that make a claim pursuant to the California Tort Claims Act. The bar for bringing a claim against a government entity for the dangerous condition of public property requires a much stronger showing of fact than a road defect on a private road. In many cases, the government may be immune entirely from a lawsuit.
The strongest claims for road defects are those problems that have been previously reported. Even if you are not able to make a claim, you can pay it forward by either getting the government to repair the defect or face legal ramifications from the next cyclist. To report a road defect, download SeeClickFix or reach out to your local bicycle coalition for resources. For East Bay cyclists, Bike East Bay has a city-by-city guide for how to report road defects.
What to do if you are injured by a defective bike
Despite their best efforts, bicycle manufacturers and bike shops occasionally sell a defectively designed, manufactured, or maintained bicycle. It can be difficult to know whether a product is defective until it is too late and a malfunction causes a crash. Generally, bikes should work properly for the purpose they're designed to achieve, but it is on the rider to make sure to perform routine maintenance. If your handlebar snaps off while riding it, that is likely a manufacturing defect. If your chain breaks after two years of riding, that may be normal wear and tear.
Sellers and manufacturers owe a duty to make sure that their products are not dangerous when used as intended or misused in a foreseeable way. These companies are strictly liable for the injuries they cause if a product is defective, but proving a products liability case generally requires the assistance of a consulting expert engineer who can prove scientifically how the product failed. If you think you may have been injured by a defective product, contact a lawyer right away and leave your bike in the condition it was to preserve evidence.
Protect yourself by being properly insured
Having the right insurance is the best way to protect yourself in the event of serious injury. Medical bills can be costly, and drivers are not always adequately insured. Having health insurance and UIM coverage can help.
Health Insurance
It goes without saying that health insurance is important in the event of an injury. Health insurance will help cover your medical costs, but you may still be on the hook for your deductible and copays. That amount can add up and leave you paying out of pocket for a significant portion of your medical bills.
Uninsured Motorist/Under-insured Motorist Coverage (UIM)
Uninsured Motorist or Under-insured Motorist ("UIM") coverage is the best insurance a cyclist can have. Most cyclists don't realize their auto-insurance can protect them on their bike, but UIM coverage is a part of every auto policy in California unless you expressly waive it. UIM covers you for injuries as a cyclist, pedestrian, passenger, or any other scenario where a driver causes you injury. California law requires drivers to carry a minimum of $15,000 in liability coverage. That may be fine for a fender bender, but in a car vs. cyclist collision, that is next to nothing. UIM kicks in to help cover you by providing insurance in excess of the responsible driver's limits if they are too low. Carrying additional UIM coverage can help provide you with an adequate settlement to pay for your damages in the event of a collision.
UIM coverage protects you from the actions of dangerous drivers who carry no insurance or insufficient insurance. California law doesn't force drivers to be properly insured to protect cyclists, so the smartest thing you can do is protect yourself. Fortunately, increasing your own UIM coverage is relatively cheap compared to liability coverage. If you have auto insurance, check your UIM coverage limits right now. I strongly advise cyclists to increase their coverage limit to at least $100,000.
Non-owner Car Insurance
If you do not have a car, you likely do not have car insurance, which means you do not have UIM coverage. Fortunately, most auto insurance companies offer a "non-owner operator" policy. These plans are far cheaper than insurance policies for daily drivers and can provide the same uninsured/under-insured insurance for significantly less money.